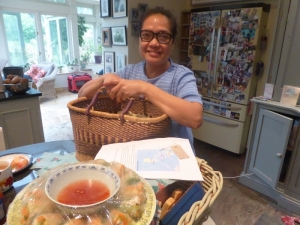 Our guests this Summer enjoyed a delicious home cooked dinner delivered to the Cottage. Enjoy a day out in the glorious Wye Valley and come home for dinner warming in the Aga!
Set on a ridge with stunning views towards Ross on Wye, our luxury Perrycliff holiday cottage has 4 en-suite-bedrooms, sleeps 8 in exceptional quality accommodation.
Our accessible accommodation is ideal for large families and three generation family groups. Our guests this Summer have said how perfect the Cottage is for families travelling together.
Our 5 star luxury Perrycliff Cottage is available now for short breaks in the Autumn.
Contact Sandra on 01989 780217 or 07831 091 767 or email stay@grovewoodcottages.co.uk if you would like further information. We usually change over on Mondays and Fridays for short breaks but if you contact us we can be flexible!